Need-to-know driving trends for Thanksgiving 2023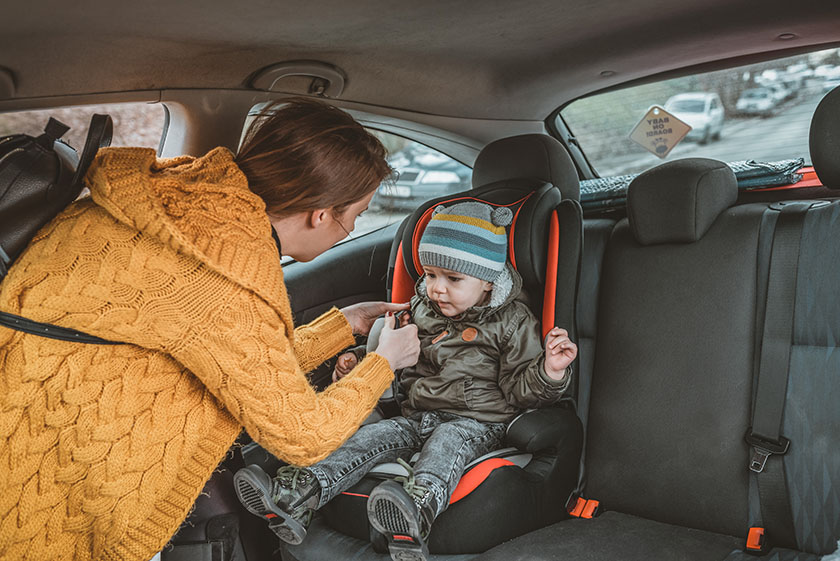 If you're planning to travel this Thanksgiving, check out our driving insights that can help you and your family travel smarter and safer.
Thanksgiving is a beloved holiday across the U.S., best-known for quality time with loved ones and a mouthwatering menu with mashed potatoes, bread rolls, pie, and most renowned – the turkey. 🦃
On the other hand, in addition to the day-after turkey coma, Thanksgiving is also notorious for resulting in two of the busiest travel days of the year.
To help ease the stress, Arity's data analytics team delved into our U.S. driving behavior dataset, which now consists of nearly 40 million connections to U.S. drivers. We looked at driving insights from 2020 – 2022 to uncover need-to-know trends for upcoming Thanksgiving trips. Here's what we found:
Thanksgiving travel trends
People have continued to drive more since the pandemic
When we look at our massive dataset, we see that the number of trips taken around Thanksgiving has increased year over year. For Thanksgiving Day specifically, we saw an 8% increase in the number of trips drivers take from 2020 to 2022.
So, as we move into this year's holiday season, if this trend continues, be prepared for more people on the road than we've seen the past few years.
After the holiday, drivers are speeding to get back home
For Thanksgiving, our data shows that driving at high speeds – specifically, driving over 80 mph – increases around the holiday, with the greatest rate of high-speed driving on the Sunday after Thanksgiving. In the last three years, drivers were 11%, 19%, and 17% more likely to travel at those higher speeds the Sunday after Thanksgiving compared to the Sunday prior, most likely while people are on their way home from their gathering.
Conversely, travelers are less distracted on the road the Sunday after
Our dataset shows that even though phone distraction while driving remains at similar levels for most of the week of travel, there is a reduction in distracted driving the Sunday following Thanksgiving.
On average distraction rates were 7.5% lower the following Sunday in the last three years compared to the Sunday before Thanksgiving. So, while drivers are picking up speed to get home, they are more focused on the roads and less on their phones.
Drivers are traveling the days before and after Thanksgiving
When we look at the driving trends the week of Thanksgiving, they show that most drivers are traveling the Wednesday before. Unsurprisingly, the least number of drivers are on the roads during Thanksgiving Day.
Trip volume by hour varies each day surrounding Thanksgiving, as shown in the chart below.
During a normal Monday – Friday workday, traffic levels typically peak in the morning and late afternoon as commuters travel to and from work. However, traffic peaks around midday on Thanksgiving Day, more similar to traditional weekend travel, though at much lower volumes. In fact, on Thanksgiving in 2022, there were 75% fewer trips at 7 a.m than at noon, whereas the weekdays after see approximately 30% more trips in the morning.
With this in mind, drivers may want to plan to hit the roads early in the morning to avoid peak traffic.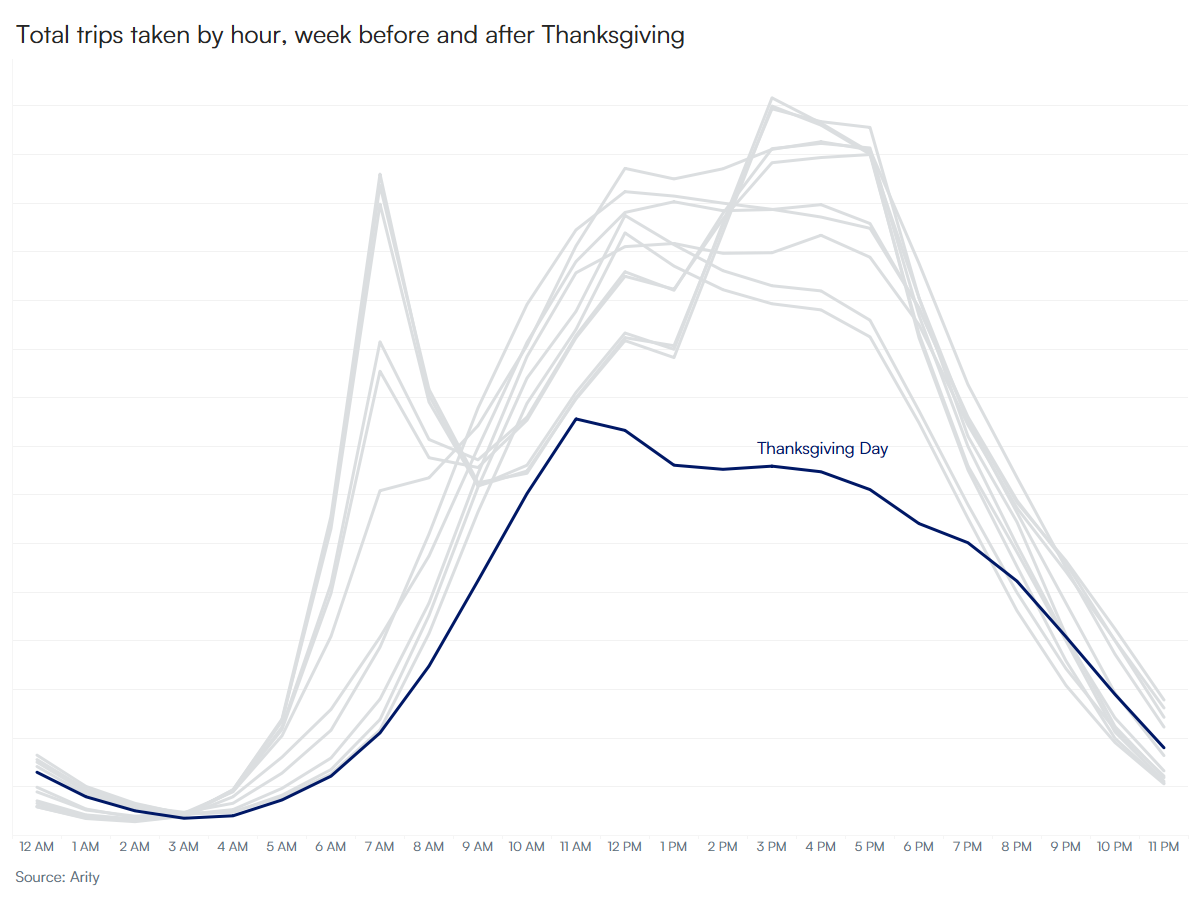 Arity's data-based travel tips
As a mobility data and analytics company, it's our mission to turn raw data into predictive insights that help make transportation smarter, safer, and more useful for everyone. Based on our recent analysis of the past three years' travel trends, here are our recommendations for your upcoming holiday trips:
Plan ahead for your trip
Since people are continuing to drive more during Thanksgiving, you may want to plan ahead and avoid driving during high-traffic time periods.
Avoid travel during popular travel times, if possible
With higher levels of travel around the holiday, there is increased risk for accidents. We recommend staying off the roads during heightened travel times and, if it's inevitable, being extra attentive and aware while you're on the road.
Be extra cautious of post-holiday speeders
When you're traveling back home after Thanksgiving, be cautious of the heightened speeding levels and, as always, remain aware of other drivers while you're on the road.
About Arity's source data
Arity's multi-source dataset with more than 40 million active connections includes anonymized and aggregated driving behavior data collected through consumer mobile apps, insurance telematics, and on-board device (OBD) programs.
Because the data is from multiple insurance and non-insurance sources and is not solely reflective of any Arity affiliate companies or any other particular industry or source, we really get a sense of how people are moving, where they are going, when, and how. Arity is connected to millions of U.S. drivers, so we have a credible representation in every state and demographic (e.g., families, single vehicles, rural, cities).
Keep in mind that although a majority of the trips Arity collects are personal trips, we have the capability to decipher between personal trips, gig driving, and non-driving impacts.
Because Arity collects various driving behaviors within a trip, we also can evaluate trends such as speeding, braking, acceleration, phone handling, and the time of day someone drives. For example, fueled by the largest telematics dataset tied to claims, we can more accurately predict dangerous driving behavior that we described in this report.