7 facts for 7 years of Arity!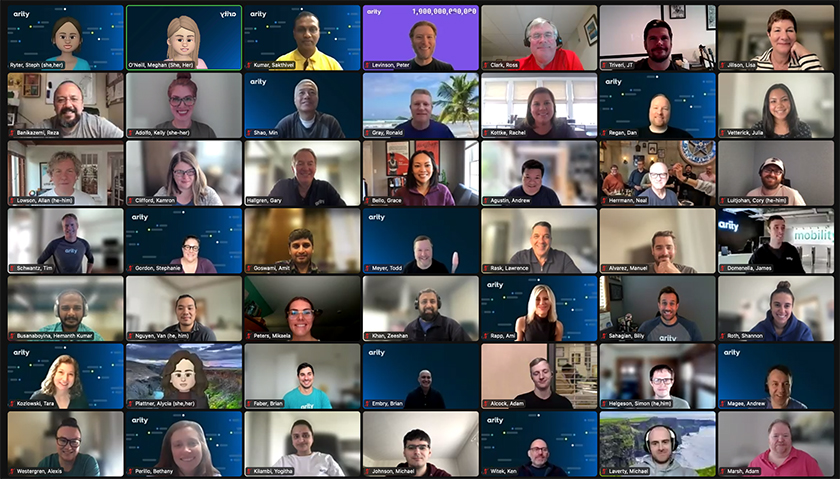 Seven things you may not have known about Arity - where we started, where we are now, and where we are going next.
Where we started
Fact #1 – Arity was born out of the insurance industry
The Arity story begins with telematics. We were born out of the auto insurance industry with the purpose of collecting and measuring driving behavior data to price policies more accurately.
We have been trailblazing telematics since 2014, and we were founded to build upon Allstate Insurance's telematics expertise – officially spinning out as our own company within The Allstate Corporation on November 10, 2016.
However, it wasn't long before we realized our unique understanding of safety and risk on our roads has value beyond insurance.
Fact #2 – Arity embraced an urgent mission to change transportation
Once the Arity team realized the potential impact we could make driving change with driving data, we embarked on a new mission. With a continuous connection to drivers, a massive driving behavior dataset, and exclusive access to claims records, we were in a unique position to deliver unparalleled insights related to safety and risk on our roads.
So, we broadened our scope and built on our founding expertise with a new, urgent mission to make transportation smarter, safer, and more useful for everyone.
Where we are now
Fact #3 – Arity has collected over 1 trillion miles of driving data
Arity has come a long way since 2016. We've expanded our connections (via mobile app and connected car partnerships), our dataset, and our suite of solutions – all of which help us get closer to achieving our mission.
Last year, we celebrated reaching one trillion miles of driving data collected. Today, we're nearing 1.5 trillion miles with our dataset growing by more than one billion miles every single day.
Fact #4 – Arity uncovers unique driving behavior insights
With the largest driving behavior dataset tied to insurance claims, we're unlocking valuable insights that can help change transportation for the better. We can look into driving behavior trends across the U.S., whether that's on a national, state, city, or zip code level – and we can get even more granular than that with insights into specific streets or road segments.
All in all, we're striving to uncover insights that help people get from point A to point B in a safer, more efficient way. In our most recently published data stories, we highlighted city trends captured in September 2022.
America drives highlights the top 10 U.S. cities which collectively had 1.7 million trips between 3 – 6 p.m. on September 17th and 18th. We delved deeper into the data for Houston, showing specific stats for where drivers were traveling (i.e., inbound, outbound, passing-through, and within the city) and Los Angeles, comparing Hollywood travel to all other LA areas.
Game day crashes compares the number of crashes on regular, non-game days versus game days for the Memorial Coliseum in LA and Kyle Field in College Station, Texas. For both, crashes increased on game day – and we even delved into the specific behaviors, like distracted driving and speeding, that preceded them.
These stories are just two examples of insights we're able to pull from our extensive dataset. Every day, our team is diving into the data and uncovering new insights to help our partners fulfill their roles in the future of mobility.
Fact #5 – Arity solutions span the entire transportation ecosystem
Our suite of solutions empowers our partners to innovate their industries while transforming transportation. We help –
Fact #6 – Arity is a best-in-class partner and workplace
Over the years, Arity has continued to be recognized as a top partner and workplace. This year, we landed a spot on Inc. Magazine's Power Partner Awards list which recognizes top B2B companies across the globe. We were also ranked 40 in the list of Global Top 100 Inspiring Workplaces, winning "Best-in-Class" recognition for the Culture and Purpose, Wellbeing, and Experience categories.
At the end of the day, it's our team members and our partners who make our mission possible. So, it's important to us to be the best for both.
Where we are going
Fact #7 – Arity has big plans for the future of mobility
While Arity has come a long way in seven years, our journey to a smarter, safer, and more useful way to navigate the world has just begun.
We recognize that transportation is fundamentally broken, and that it will take a collective effort between consumers, tech companies, governments, advocacy groups, and city planners to change it.
As we establish more partnerships, connect to more drivers, and grow our dataset, we hope to create a world where transportation is more accessible and convenient, where there are zero road fatalities, and where drivers benefit from their choice to share data.
Want to join us in driving the future of mobility? Let's start a conversation on how our data and solutions can work for you.