Crash course: What is crash detection?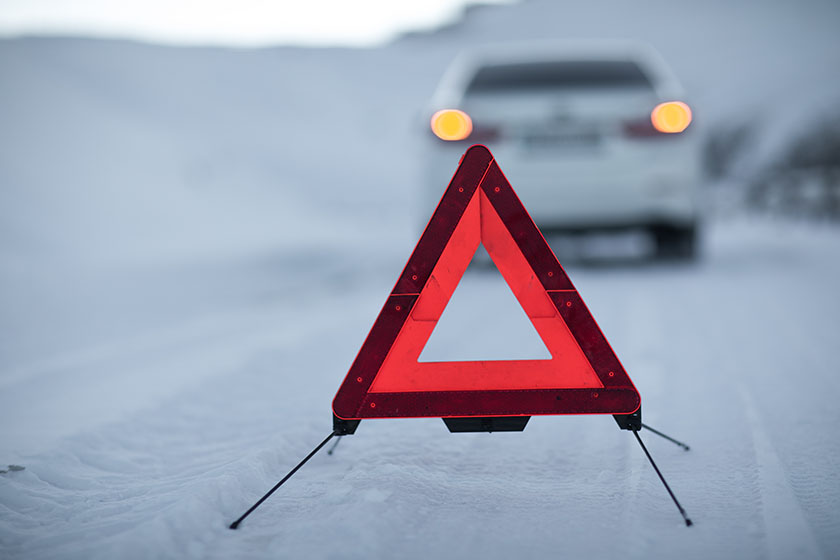 Three things you should know about crash detection. 
The term "crash detection" grabbed headlines when Apple released its own version of the feature in 2022, promising select customers an automatic emergency service call in response. While this news pushed crash detection into the limelight, the technology itself is not new, and it plays a big role in making transportation smarter, safer, and more useful for everyone.  
Because car collisions are one of the leading causes of death in the U.S., this technology has the potential to save over 40,000 lives every single year.  
Here are three things you should know about crash detection.  
#1 What is crash detection?
Crash detection refers to technology that can identify when someone has been in an accident and typically triggers a response in near real-time, whether that's connecting with emergency services, notifying family members, or kickstarting the insurance claims process.  
#2 How does crash detection work?
In simple terms, mobile crash detection technology relies on various phone sensors to detect a significant impact to your vehicle while driving. However, each solution on the market differs based on the data and algorithms used.  
When it comes to the data behind the technology, the types and the amount of data used – and the quality of it – can make a big difference in an algorithm's accuracy. Each crash detection provider has its own "secret sauce" algorithm that uses data from different types of sensors like an accelerometer or gyroscope to detect a sudden change in speed and direction, a barometer to detect pressure change due to deployed airbags – and even microphones to detect a loud thud.  
Since there are only a handful of sensors to choose from when it comes to building a crash detection algorithm, the quality of the data that goes into it is critical. You could utilize every mobile phone sensor available – but you're not going to get accurate, reliable results without a lot of accurate, reliable data.    
So, what makes data quality data? A few initial factors for crash detection data include:  
Are the drivers a good representation of the population? If not, your results may be biased.

 

Is the crash data accurate? Is it supported by crash tests in a lab setting with the best ground truth sensors on the vehicle? And are there reliable labels on real crashes versus false positives? 

 

How much related context do you capture? For example, the preceding driving behaviors leading up to the crash or the subsequent 911 calls, medical outcomes, repair outcomes, etc. 

 
#3 Who uses crash detection?
Crash detection solutions are available to drivers through various mobile apps and phone carriers, each striving to provide help after a traffic accident. Some companies use their own technology, while some leverage proven technology to aid their customers.  
Arity is one of those technology providers, and we partner with mobile apps, insurers, cities, and more to make Crash Detection by Arity available to tens of millions of drivers.  
With our partners, we're not only reacting to traffic accidents, we're also proactively preventing them from happening in the first place. In addition to detecting crashes and enabling life-saving responses, our suite of solutions —  
Enable our

mobile app

partners to provide personalized driving behavior insights to users, helping them understand how they can be safer on the road.  

 

Support

insurers to

incentivize risky drivers to make safer decisions behind the wheel. 

 
Help

cities

form a complete picture of road risk, identifying even near misses and unreported crashes. 

 
Crash Detection by Arity
As a mobility data and analytics company, our Crash Detection solution is informed by over a trillion miles of driving data – enriched with insurance claims data, IIHS and NHTSA crash lab results, and advanced research on vehicle speed and force impact.   
We're continually refining our algorithm to increase accuracy and save more lives. In 2022 alone, Crash Detection by Arity detected an average of 23,000 crashes and helped dispatch 2,900 emergency vehicles each month.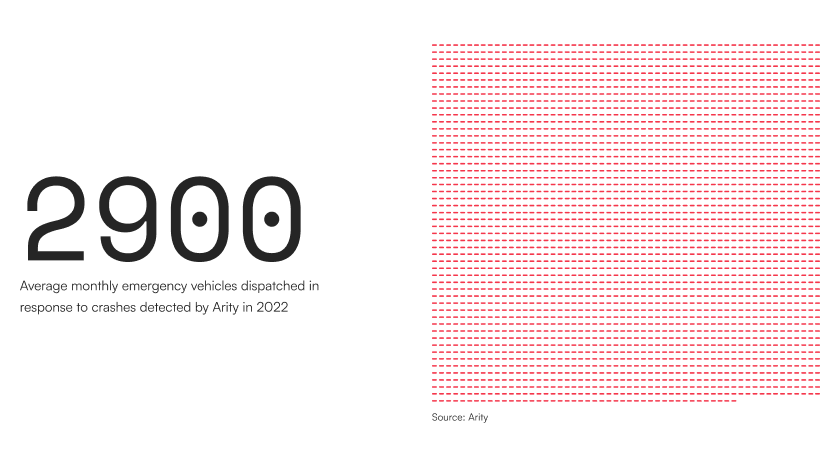 With our partners, we're creating better experiences on and off the road for drivers, communities, and businesses. 
Interested in Crash Detection by Arity? Contact us to start a conversation!