Trailblazing telematics: Arity at InsureTech Connect 2023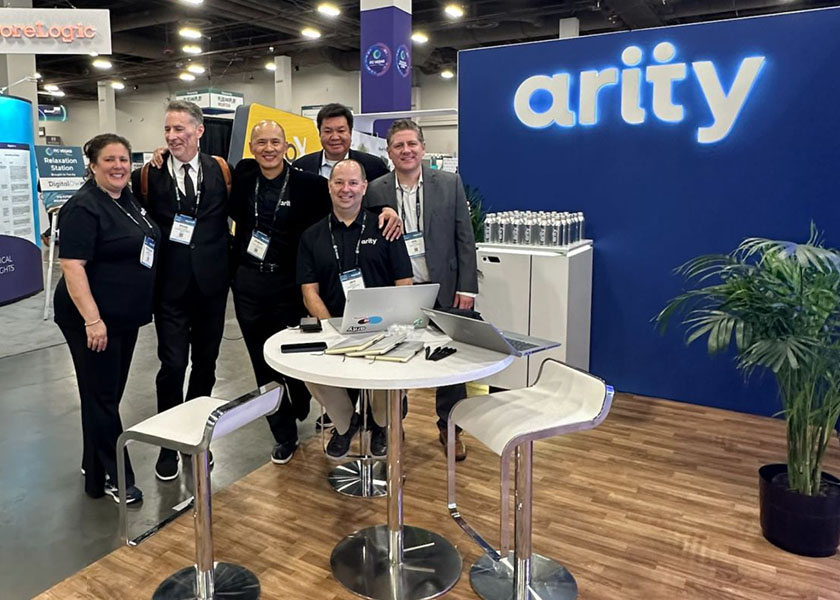 Our team's top four highlights from InsureTech Connect 2023.
Team Arity joined the world's largest gathering of insurance innovation at InsureTech Connect (ITC) 2023 in Las Vegas, taking part in discussions around how together we can propel the industry forward. It's no secret that auto insurance carriers have faced unprecedented challenges in 2023 – which makes this year's ITC conversations even more critical.   
Our main takeaway? Telematics is not just for auto insurance pricing anymore. Today, it can be used across the entire value chain to improve profitability.  
Here are our team's top four highlights from the week.  
#1 Arity announced a partnership with CSAA Insurance Group
Team Arity started the week off strong, officially announcing our partnership with CSAA Insurance Group. Through the Arity IQ℠ network, CSAA is now leveraging our massive driving behavior dataset to competitively quote drivers while improving loss ratios across their entire book of business.  
"At CSAA Insurance Group, we aim to make insurance simple, proactive, and personal. This collaboration represents another step forward in pursuing driving solutions that empower our members who exhibit safe driving behavior." – Rick Lanter, Senior Vice President for Product Strategy and Development
#2 Peter Levinson took the stage for Matteo Carbone's IoT Insurance Observatory
Peter Levinson, Vice President of Product for Arity, joined Matteo Carbone's IoT Insurance Observatory for the session, "The three essentials of telematics: How to create success beyond a participation discount."  
According to Peter, there are three things that must be true to maximize the value of telematics data.  
It has to be available on everyone.

If a carrier doesn't have telematics data at scale, they're leaving valuable opportunities on the table. With the largest telematics dataset tied to insurance claims, Arity is working towards connecting to every driver in the U.S. 

 

It has to be integrated across the enterprise.

This can be measured in two ways. One,

penetration

– how many drivers an insurer has telematics data on and two,

utilization

– whether an insurer is using telematics at each stage of the customer journey. Both of these are important KPIs that

all

insurers should focus on to improve profitability with telematics. 

 

It needs continuous innovation.

Telematics isn't a one-and-done initiative. Arity has been in the telematics business since 2016 – we've seen it change and we've played a role in how it has evolved over the years. What used to be data collected through plug-in devices has transformed into

a lot more data

collected through mobile apps and connected cars. And innovation isn't going to stop there. Solutions like

Arity IQ

℠

 are enabling insurers to continue to trailblaze telematics.

 
#3 Andrew Agustin joined Celent's panel on the future of connected cars
Andrew Agustin, Group Product Manager for Arity, joined our partner Ryan Lockwood (Connected Analytic Services), Ben Bowne (Cambridge Mobile Telematics), and Donald Light (Celent) onstage to talk about the power and potential of telematics data, specifically collected from connected cars.  
There's no question that connected cars are important now and will be in the future for insurers. The sensors built into the vehicles are something that can transform the market. However, connecting those vehicles to consumers and gaining additional datapoints from mobile phones are important and something that Arity can provide. 
During the panel, Andrew focused on how important driver-permissioned data is. Whether it's collected from connected cars, mobile phones, or any other device, it's vital to get consumer consent first with transparency on what data is collected, how it's collected, and why.  
For auto insurers, a big part of the why should be to benefit the consumer – with this telematics data, carriers can provide a better, more personalized experience for customers from marketing to pricing to claims.  
#4 Henry Kowal spoke on a panel on how to optimize telematics
Henry Kowal, Group Product Director for Arity, took the stage for an Arity-sponsored panel on how carriers can optimize their telematics efforts for a more profitable tomorrow. The panel, moderated by Nathan Golia (Celent), represented three key players of telematics –   
Insurer: Our partner Rick Lanter (

CSAA

) 

 

Connected car: Sanjiv Ghate (Mobilisights) 

 

Telematics Data and Analytics Partner: Henry Kowal (Arity) 

 
Each speaker brought their own perspective on the current and future states of telematics.  
On the insurer side, Rick said this has been the hardest market he's ever worked through as there's been a lot of volatility in the industry over the last three or four years.  
"We've seen driving behavior change post-COVID, we're seeing spikes in frequency, we're seeing sustained inflation which obviously puts pressure on severity – and it's been a big challenge for the industry." – Rick Lanter, SVP – Product Strategy and Development, CSAA
According to Rick, CSAA is reaching an inflection point where they're looking for telematics data at scale and considering the "plethora of use cases" for it – from leveraging it at point of sale to better segmenting customers and beyond.  
Henry expanded on these two points, further emphasizing the importance of one, data at scale and two, data leveraged across the entire auto insurance value chain. As a data and analytics partner, Arity is data agnostic because all data – whether collected through mobile apps, connected cars, or plug-in devices – holds valuable insights. And, when combined, they result in unmatched breadth and depth.  
"We're making great strides towards that. Today, we have about 40 million connections within our network and that represents about 15% of the U.S. driver population. That presents insurers with the opportunity to use telematics data not only within that policy renewal case but across the entire insurance lifecycle." – Henry Kowal, Group Product Director, Arity 
In addition to telematics data on demand and marketing segmentation according to risk level, Arity is bringing new telematics use cases to the industry. As one example, Henry discussed Crash Detection as a way to first, ensure customers get help when they need it most and second, kickstart the claims process at first notice of loss (FNOL) – saving time and money for both the insurer and insured.   
As for connected cars, Sanjiv said there's an extensive list of potential data triggers in a connected car. And those can be used to not only help customers post-accident with an easier, more efficient insurance claims process, but also stop accidents before they happen.   
"At the end of the day, we are a B2C company. We want to increase good driving behavior through the feedback loop. While the insurance work as a monitoring incentive to drive better is there, we also feed back into users what is good behavior, what is dangerous behavior." – Sanjiv Ghate, CEO, Mobilisights 
Taking it a step further, Sanjiv said the data collected from connected cars can also warn drivers if upcoming maintenance is needed – for instance, predictive alerts that your car is going to break down because the battery needs to be fixed.  
ITC 2023 was a busy and productive week for Team Arity. However, we know it's time to turn these insights into action if we want to propel the auto insurance industry forward. Join us for our webcast, "Unlocking the full potential of insurance telematics," on Wednesday, Dec. 6 to get started! Register here.