Meet Tapestri: 4 things to know about Arity's new mobile app partner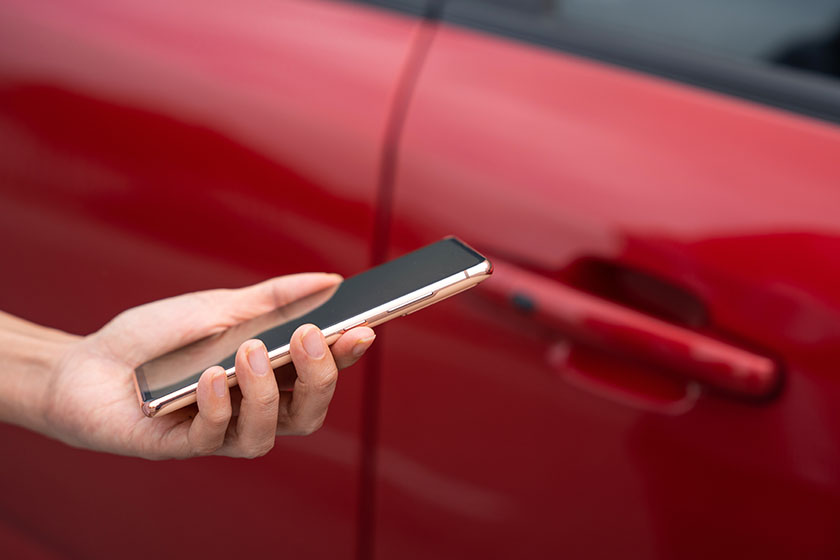 Tapestri is on a mission to empower consumers to get paid for their data.
Arity and the mobile app Tapestri recently teamed up to bring its users a new feature called Drive2Earn. Here are four things to know about the app, the feature, and our data for good partnership.
#1 Tapestri empowers Tapsters to earn and save
Tapestri's tagline is, "It's your data, you should get paid for it." And the company lives into that, building app features that enable its users, aka Tapsters, to earn and save money by opting in to share their data while living as normal.
"We provide a very natural experience in the app. It runs in the background, and it provides a tremendous amount of value." – Giorgio Campo, Chief Operating Officer for Tapestri
Tapestri offers users a whole suite of features that monetizes actions they're already taking, including Set2Earn which empowers users to earn passively by sharing their location data, Play2Earn which allows users to earn money while playing games on their phones, and more!
Tapestri continues to expand their suite of features so Tapsters can fund their day-to-day purchases, using the extra income to cover their coffee runs, movie tickets, monthly subscriptions, etc.
#2 Tapestri and Arity are "driving" even more value for Tapsters
Tapestri recently added to their suite an Arity-powered app feature called Drive2Earn that makes it possible for users to earn and save money while they're on the move.
With Arity's market-leading driving behavior analysis and Tapestri's privacy-first mobile app experience, Tapsters can now opt in to get compensated for wherever they drive. Additionally, Tapsters will get feedback about their safety behind the wheel and can enable personalized offers based on their driving behaviors.
"We want to launch products that are the most inclusive, reaching the widest range of people. We spend a large portion of our lives driving, so when the opportunity came to enable consumers to earn while driving, we went after it pretty heavily." – Walter Harrison, Chief Executive Officer for Tapestri
#3 Tapestri uses data for good
Like Arity, Tapestri is dedicated to using data for good. Both companies stand by the idea that user data should not only be permissioned but also, if permission is granted, that data should be used to benefit the user. Tapestri aims to perfect this value exchange, making it possible for people to benefit from their choice to share data.
"We believe the future of data is permissioned. Data, advertising, intelligence, analytics – these aren't bad words, especially if you include consumers on the ride with you and give them a piece of the pie." – Walter Harrison, Chief Executive Officer for Tapestri
In addition to Drive2Earn, Tapestri's partnership with Arity also unlocks opportunities for users to save money with access to a suite of Arity's solutions, including:
Arity® Fuel Efficiency which can help users save money at the pump with insights into how their driving behaviors affect their gas mileage.
Arity® Driving Score offers users a personalized driving score based on their driving habits which can be used to help good drivers save money on car insurance.
Taking it a step further, Arity uses driver-permissioned data to benefit communities and society at large. With our driving behavior insights, we're working with our partners – including insurers, mobile apps, city planners, and other organizations – to predict and reduce road risk, reward safe driving, and optimize how to get from point A to point B.
#4 Tapestri is dedicated to putting user privacy first
Protecting consumer's data privacy is a top priority for Arity, and we engage with partners who share our principles around data. Tapestri also operates in a way that puts user privacy first.
"That ethos really shines through with consumers from all walks of life. You now have the ability to earn – day after day – doing the things that you essentially do naturally in a very privacy-compliant and safe environment." – Giorgio Campo, Chief Operating Officer for Tapestri
Further, Tapestri also ensures compliance on the advertising side. The team works across a wide range of industries, bringing their expertise to help companies use best practices to navigate consumer data – how to tap into it, how to work with it, and how to understand it with the right qualifiers and the right consent.
While Drive2Earn is a big step in Team Tapestri's journey, there's still a lot of innovation in the works to help users get compensated for everything they already do.
If you're ready to get paid for living as normal, download Tapestri today!