Road safety for cities: Arity takeaways from MOVE America 2023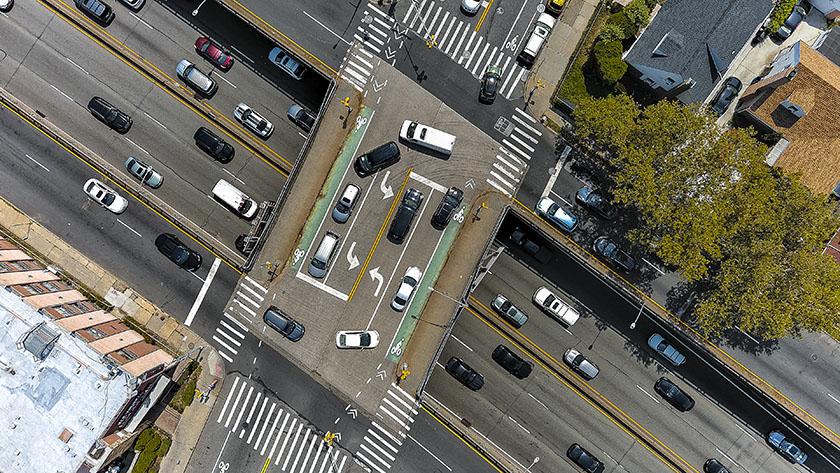 Three key takeaways from Anthony Johnson at MOVE America 2023.
How can we re-imagine the future of mobility for the better?  
Team Arity attended MOVE America 2023 to connect and collaborate with people who are striving to answer that exact question. As a sponsor for the "Smart cities and infrastructure" track, our team facilitated conversations around how we can transform transportation to be smarter, safer, and more useful for everyone.  
Anthony Johnson, Solutions Engineer for Arity, kicked off the agenda with the presentation, "Driver behavior and real-time data: A tool for planning." Here are three key takeaways from the session.  
#1 We have an urgent need to identify road safety challenges
For Arity, the future of mobility is a world with zero road fatalities. Even though it's a big and daunting goal, it means saving more than 40,000 lives every single year – which makes it an urgent one.  
Transportation planners are tasked with solving infrastructure issues to protect all commuters, including pedestrians and other vulnerable roads users (VRUs) which make up 20% of road deaths. However, before we can start to solve road safety challenges, we need to first identify and understand them. 
#2 Driver behavior and near real-time data is a valuable tool 
Mobility data can help achieve this understanding of road risk. Arity leverages the world's largest driving behavior database tied to insurance claims to help cities understand how people move. With nearly 40 million active connections and over one trillion miles of driving data collected, Arity can deliver real-time traffic and driving events data.  
Arity

Real-Time Traffic

helps cities monitor sudden changes in traffic flow, providing insight into the density and flow of all vehicle traffic on the road – captured and sent in real-time.  

 

Arity

Driving Events

gives insight into the frequency of various risky driving behaviors in a specific geography, including crashes, phone handling, hard braking, hard acceleration, and extreme speeding. These events are available through

Michelin Mobility Intelligence

's Safer Roads services. 
#3 Data fusion is vital to informed infrastructure 
The major roadblock to identifying and understanding road risk is a lack of data. Right now, many transportation planners are relying on siloed and delayed datasets like police reports, weather reports, and roadside sensors. And while those may show a glimpse into road risk, it's nowhere near the full picture.  
Arity and Michelin Mobility Intelligence have teamed up to bring driving event data to the public sector, helping form a more complete picture of road risk for better-informed infrastructure decisions.  
Michelin Mobility Intelligence takes our driving event insights and fuses them with other analytics and insights to understand what's taking place on our roads. For example: 
Our hard braking events can be layered with pedestrian data to determine a high likelihood of risk to VRUs.

 

Our crash data can be paired with weather data to determine if there are any significant correlations.

 
With that information, transportation planners can identify and decide how to address these infrastructure issues to reduce risk and save lives.  
At Arity, we believe one traffic fatality is too many. If you're interested in leveraging our insights for road safety and infrastructure projects, reach out to start a conversation!