The answer to today's biggest transportation problems? Data collection from driving events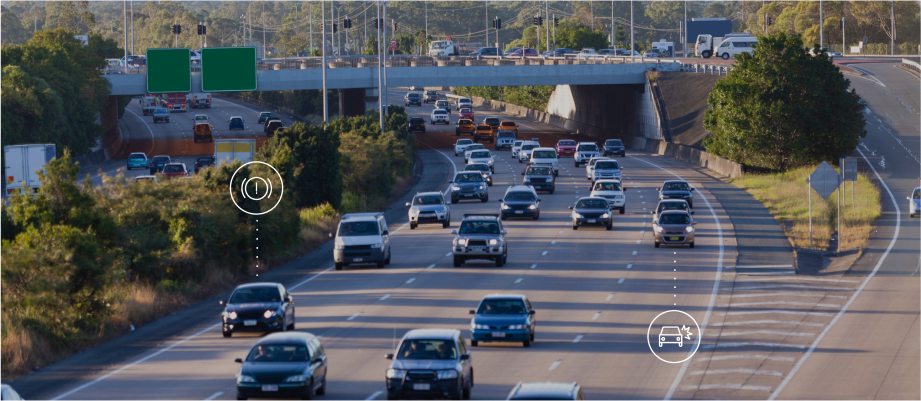 As technology, working norms, and commuting patterns change, transportation habits have also shifted — and new challenges have emerged for insurers.  
To make America's roads safer and smarter for everyone, we need informed, accurate driving behavior insights. That's where data from driving events comes in.  
By leveraging driving data, we can derive accurate insights on actual driving behavior to identify transportation challenges and build solutions for the future of transportation.  
Addressing today's transportation challenges
Since 2020, a lot has changed for insurers when it comes to assessing driving risks. With the onset of COVID-19, more commuters worked remotely, and the number of drivers on the road dropped substantially.  
Though most would assume that fewer commuters would result in safer roads, new data shows increasing levels of driving risk, including: 
Distracted driving

: There are more distractions in vehicles than ever. As a result, distracted driving is on the rise, and around

nine people are killed

in the U.S. every day due to distracted driving-related accidents. 

 

Rise in fatal collisions

: It's estimated that

42,915 people in the U.S. died in motor vehicle accidents in 2021

— a 10% increase since 2020. A

CNBC article

reports that this increase is likely the result of reckless driving as well as heavier, faster vehicles, such as SUVs, that pose a greater risk to pedestrians and smaller cars. 

 

Inefficient infrastructure

: In many U.S. cities., road infrastructure cannot support rising population levels — look at

Los Angeles or New York City

.

A lack of sufficient infrastructure ultimately

results in traffic congestion. 

 
Tackling dangerous driving and inefficient infrastructure with driving data
The secret lies in the data when it comes to actionable solutions for dangers on the road.   
By leveraging driving data, the transportation industry can access insights to help disincentivize distracted driving, mitigate fatal collisions, and create smarter transportation solutions.   
Disincentivize high-risk driving behaviors
By analyzing distracted driving data and pinpointing risky behaviors, we can turn data into practical steps for drivers to modify their driving behavior.   
With accurate data, businesses across the transportation industry can play a part in preventing distracted driving. For instance:  
Insurers can use driving data to identify distracted driving behavior — then disincentivize that behavior with higher premiums.
Mobile apps can use driving data to provide drivers with real-time feedback.
Mitigate fatal collisions
While there is no catch-all fix for vehicle collisions, driving data can still help us better understand and even prevent behaviors that correlate to roadside accidents. With telematics data, we can easily identify when driving events like speeding, sudden acceleration, and distracted driving occur.   
By creating risk models from driving data, we can accurately predict risk and make drivers aware of their unsafe road behavior. Like distracted driving prevention, policy pricing and safety tools informed by driving data can help drivers become more aware of their dangerous habits.  
Create smarter transportation solutions
Driving data provides an in-depth understanding of how people use road infrastructure. From analyzing intersections that see staggering levels of collision to viewing roads with a high construction volume, telematics can help us identify some of the riskiest places on the road.  
In return, we can build transportation solutions that align with the way people drive. When multiple businesses tap into driving data, our metropolitan areas benefit from solutions that ease parking congestion, improve signage, and cater to the emergence of autonomous vehicles. 
Additionally, driving insights can help improve alternative transportation methods that take the pressure off our roads, like micromobility or public transportation. Large cities and small towns alike can harness mobility data to decide where and how money is spent on public transportation alternatives. 
Driving the future of mobility with Arity
At Arity, we find the meaning in driving events to help create solutions for the future of mobility. Using insights from decades of data collection and one of the world's largest driving datasets, we help the industry mitigate fatal collisions and create smarter solutions for the future of transportation.  
Learn more about Arity telematics solutions and how we're working to make transportation smarter, safer, and more useful for everyone.